12 Over the Counter Anxiety Treatments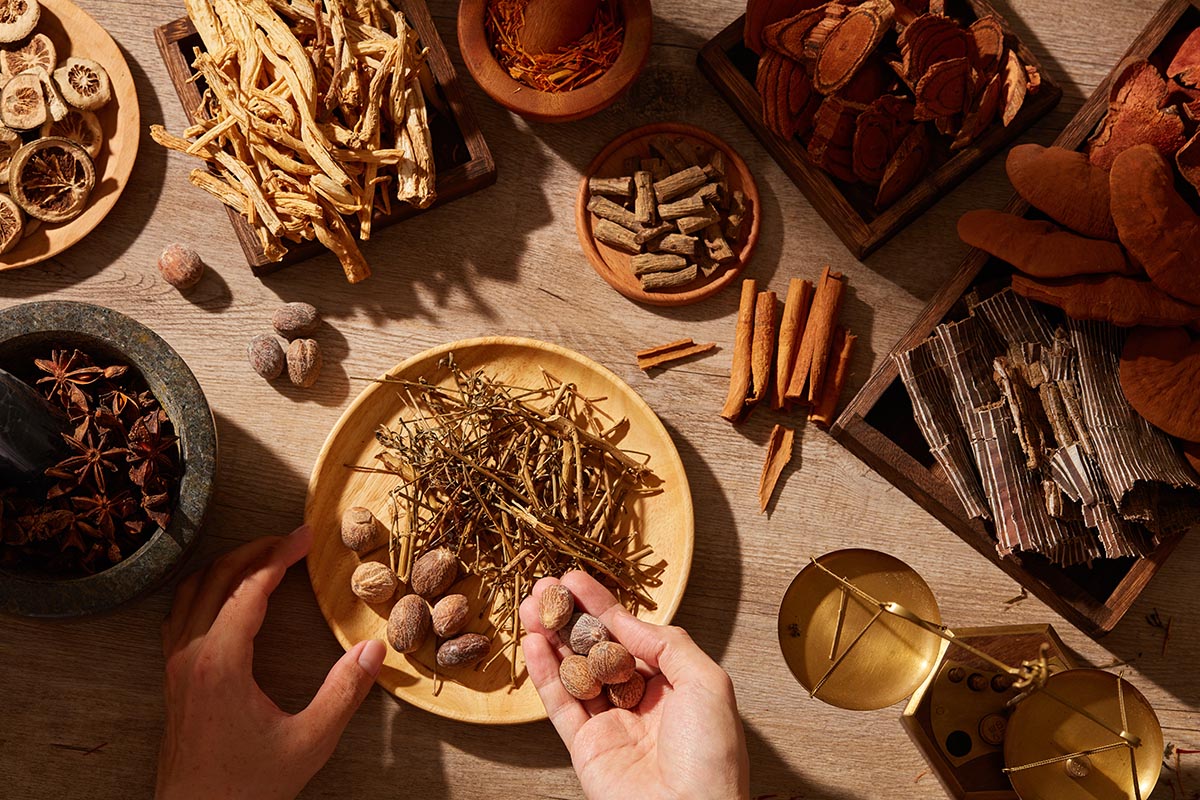 Nearly a fifth of all adults suffer from an anxiety disorder. Each one of those anxiety disorders has different levels of severity, triggers, and ways in which they manifest. But every one of them is treatable and can be managed with the proper techniques.
Here at Barn Life Recovery, we believe in a community-based treatment method for anxiety, which melds together traditional therapy and group discussion with ancient practices such as Tai Chi and art therapy.
But for some people, a form of over the counter anxiety medication is a beneficial companion to these important practices. Let's explore some herbs for anxiety and their benefits.
12 Over the Counter Medication & Herbs for Anxiety
While there are various types of prescription medications for anxiety, we're going to focus on these more obtainable anxiety treatment options. Each of these herbal supplements have advantages for reducing anxiety symptoms.
1. Shi Chang Pu
What is it?
Shi Chang Pu carries many names, such as Sweetflag Rhizome, Acorus, and Rhizoma Acori Tatarinowii. It is a traditional Chinese herb that has long been known as the primary herb for opening orifices and vaporizing phlegm. It can also nourish the liver, strengthen the singing voice, and even has been shown to have an effect on cancer cells.
How Does it Help?
In addition to its other effects, Shi Chang Pu has a known sedative impact on the consumer. This has been utilized to treat patients suffering from restlessness. It is most frequently used sparingly as a tea ingredient.
2. Yu Jin
What is it?
Yu Jin, also known as turmeric, is another herb in traditional Chinese medicine. Its everyday use is as a spice for foods like curry, cheeses, and mustards. But it also has medicinal uses.
How Does it Help?
Yu Jin is very good for your gallbladder, thus it treats anxiety, anger, and frustration. It is also considered an invigorator of blood. When blood is slow and congealed and stagnant, a host of medical issues generally follow, making this an important trait.
WARNING: Consult your doctor before consuming turmeric if you are currently taking blood thinners.
3. Magnesium
What is it?
Magnesium is a standard dietary supplement and already exists in abundant quantities in the body. Many foods you consume in your everyday life contain magnesium, such as spinach, pumpkin seeds, chia seeds, peanuts, almonds, cashews, soy milk, and oatmeal.
How Does it Help?
Magnesium supplements are frequently used as a stool softener but can actually improve brain function and regulate neurotransmitters, according to research conducted in 2017. This can lead to a decrease in symptoms of anxiety in some people by affecting the hypothalamus, which regulates the pituitary and adrenal glands responsible for your stress response.
4. L-theanine
What is it?
L-theanine is an amino acid commonly found in black tea, green tea, and mushrooms. It can also be purchased as a dietary supplement at most pharmacies.
How Does it Help?
If you've ever had a cup of tea, you may have noticed a feeling of ease and calm wash over you. That's the L-theanine at work, which promotes relaxation throughout the mind and body.
Research conducted by the National Library of Medicine found that four weeks of L-theanine treatment decreases anxious thoughts and improves sleep quality in patients, making it not only helpful for treating anxiety but also effective as a natural insomnia medication.
5. Lavender
What is it?
Lavender is one of the world's most pleasant-smelling plants. There's a reason why it is commonly used as a scent for soap, laundry detergent, room spray, incense, and more: it has tremendous calming effects on the mind.
How Does it Help?
Fill your house, apartment, or work space with lavender-scented products and you'll find a decrease in anxiety, stress, and restlessness and an increase in sleep quality. Lavender can also improve your overall mood and help to regulate your breathing.
6. Ashwagandha
What is it?
Ashwagandha, also referred to as the winter cherry, is an ancient medicinal herb that grows in various parts of Africa and Asia. Its technical name is Withania Somnifera, with "somnifera" literally meaning "sleep-inducing" in Latin. It has been an integral component of traditional Indian medicine for centuries.
How Does it Help?
Ashwagandha has several positive side effects on one's mental state, from the reduction of stress & anxiety to the improvement of sexual function and fertility in both men and women.
However, ashwagandha is known to conflict with some prescription medications, so it is highly encouraged that you consult your doctor before you add it to your list of regular supplements.
7. Chamomile
What is it?
Most people know of chamomile as a popular tea ingredient or sleeping aid. Did you know it was available as a supplement too? In addition to serving as a natural sleep medication, chamomile also provides short term relief from anxiety and stress.
How Does it Help?
Chamomile contains apigenin, a compound designed to treat anxiety. Apigenin attaches itself to GABA receptors in your brain, the same receptors that prescription anxiety medications attach to. This momentary reduction in anxiety can improve your sleep quality, leading to a more relaxed and less anxious mindset overall.
8. Valerian
What is it?
Valerian root has been used to treat anxiety and insomnia since just after the Biblical Era. However, many health experts note that Valerian root can be dangerous if mixed with certain prescription drugs, so ask your doctor before adding it to your routine.
How Does it Help?
As noted above, valerian root has been traditionally used to treat insomnia and restlessness, calming the anxious mind.
Like many of the other herbal remedies on this list, it is most often freeze dried and crushed into tea leaves or supplements. Brewing these remedies into tea is the traditional way of consuming many herbal supplements and is a method that ensures the proper nutrients are consumed.
9. 5-hydroxytryptophan (5-HTP)
What is it?
5-hydroxytryptophan (5-HTP), more commonly known as serotonin, is a chemical that is naturally produced by the brain from tryptophan. Tryptophan is found in many foods we consume daily such as cheese, chicken, eggs, fish, milk, and peanuts.
How Does it Help?
As the chemical responsible for mood regulation and happiness, 5-HTP is beneficial for one's mental health. 5-HTP has stronger lab evidence supporting its effectiveness at improving depression symptoms in particular, but there is optimism that it can help with anxiety too.
Watch this video to learn more about the benefits of serotonin & 5-HTP and the recent studies that have been conducted surrounding it.
10. Cannabidiol (CBD)
What is it?
Cannabidiol is an active ingredient found in marijuana. It does not produce a "high" like marijuana does, but it does have medicinal uses, such as treating some types of epilepsy in children.
How Does it Help?
CBD oil is growing in popularity, with more than half of people who use it doing so for its anti anxiety effects. However, at present CBD oil is not yet FDA approved for this use, so make sure to consult your doctor before deciding to use CBD oil for your anxiety disorder.
11. Kava Kava
What is it?
Kava kava root, sometimes just referred to as "kava," is an ingredient used in celebrational beverages in the Pacific Islands. Many people have reported feeling similar effects to that of alcohol after drinking it.
How Does it Help?
Because of this sensation that people feel after drinking it, many have considered kava kava as a treatment for anxiety symptoms. However, not much is presently proven regarding its medical properties or effectiveness, nor its potential adverse effects on one's health if taken regularly.
12. Holy Basil
What is it?
Holy bail is another herb used in traditional Indian medicine that has been long-renowned for its overall healing properties, from treating bronchitis to decreasing joint pain to lowering blood pressure. One benefit of using holy basil is its ability to reduce anxiety symptoms.
How Does it Help?
Holy basil is an adaptogen, which means it helps your brain "adapt" to stressors that cause anxiety. It can also help you feel more social, which is particularly helpful for people who suffer from social anxiety.
The most common way to ingest holy basil is in tea or through supplements.
Anxiety Treatment in Orange County, California
For holistic, community-based treatment of anxiety, Barn Life Recovery is here for you. Our facility is a haven for people from all walks of life who are living with these issues. We specialize in non-pharmacological treatment with the goal to help you Love Life Again. Learn more about what we do and attend one of our free community events to see if we're a good fit for you.