The 4 Stages of Depression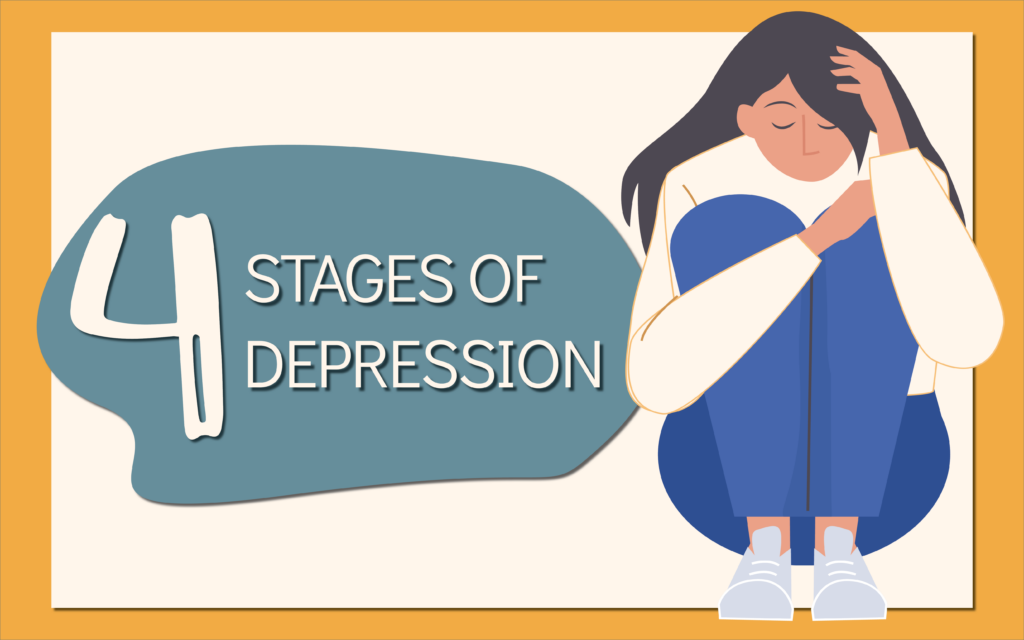 Most of us will experience the symptoms of depression in our lifetime. While it may not escalate to a formal diagnosis for all of us, occasionally feeling a sense of overwhelm or sadness is nearly unavoidable. Depression isn't a one-size-fits-all experience, and we'll each interact with it in our own way as we move through the four stages of this experience.
What is Depression?
Depression arises from negative emotions that have existed for an extended period of time. Without the proper coping mechanism or appropriate ways to allow these emotions to pass through, the feelings accumulate and can further separate us from our essence. It is our philosophy that depression is a symptom of long-term exposure to a life not aligned with the soul.
Also called major depressive disorder or clinical depression, this condition has a tremendous impact on how we feel, think, and behave.
Symptoms of Depression
The most common signs of depression include: 
Feelings of sadness or hopelessness

Angry outbursts

Irritability 

Loss of interest in previously engaged-in activities

Sleep disturbances

Fatigue or tiredness

Reduced appetite

Anxiety

or restlessness

Difficulty concentrating

Memory loss 

Frequent or recurrent thoughts of death or suicide
The Stages of Depression
1. Origination
The onset of depression can be triggered by a monumental event, such as the death of a loved one, or by a slower build-up of unsavory circumstances, such as addiction or illness. In this initial stage, one might experience overall fatigue, sadness, and feelings of hopelessness.
2. Normalized Apathy
After a length of time, these feelings of depression can become our new "normal." While the symptoms of depression are still painful, they may not feel shocking, as we become accustomed to always feeling those symptoms.
3. Loss of Interest
Activities and friendships we once loved engaging in may begin to feel like too much "work." Things we once found joy in may now seem too uncomfortable to participate in. It almost feels easier to stay in our own bubble than try to feign excitement or interest in things we used to love.
4. Avoidance or Abandonment of Responsibilities
Things that once felt like second nature – work, self care routines, paying bills – now feel impossible or unimportant. At this stage, depression has taken over one's life, and it may feel like too much of a task to lift out. At this time, professional support is of the utmost importance.
How to Cope With Depression
While depression isn't something that many can easily just "snap out of", there are many things we can do to ease the symptoms of depression.  
Below are our top ways to cope with depression:
Stay In Touch
We know it's tough, but try not to withdraw from the people in your circle. Take time to yourself, but be sure to stay in touch with friends and family who could provide a positive lift in mood when you're feeling down.
Get Active
Whether it's a quick walk or more formal exercise, a workout will definitely boost your endorphins – the feel good hormones! For an extra mood-boosting effect, try a walk in nature or yoga – both will increase your mind-body connection in addition to getting you moving.
Get Mindful
Oftentimes, the thoughts and feelings running through us aren't even our own. Be mindful of what you are watching or listening to, as well as who you're spending time with. You can also put a stop to the negative thoughts going through your mind with meditation or breath work. Try this guided meditation to elevate your thoughts and mood.
Take in Some Sunshine
Exposure to the sun is critical to boosting our levels of Vitamin D and serotonin, which help to elevate our mood. Even just 10-15 minutes can go a long way!
Talk to a Professional
It can sometimes be difficult to open up about our depression to the people closest to us. Seek out a licensed therapist who can be a supportive presence and help you find an appropriate treatment plan if that's the path you'd like to take.
Depression Treatment in Orange County, CA
Experiencing symptoms of depression? At Barn Life, our licensed, clinical team and holistic treatment model helps people explore how to accept and embrace the inevitable hurdles, trauma, and pain that accompanies depression – allowing them to fully heal from past and present issues, and triumph over depression. In addition to our outpatient and partial hospitalization programs, we offer free community events, which are a great, low-key way to experience our holistic treatment facility.