9 Acupressure Points for Anxiety Treatment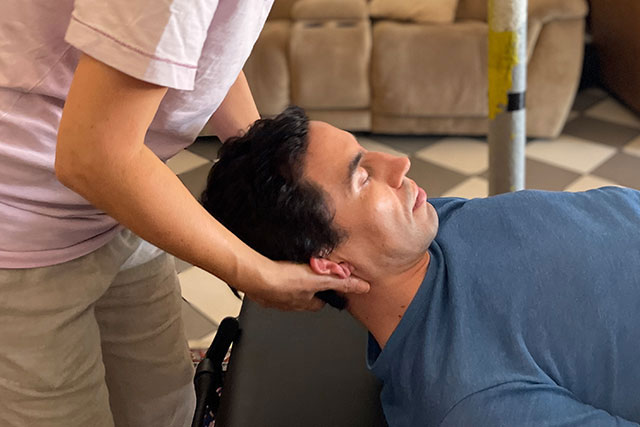 How to Treat Your Anxiety With Acupressure
Anxiety is a common human emotion that we all experience at some point. Facing a difficult or stressful circumstance may cause you to feel a little off. More severe and persistent symptoms that have a significant negative impact on your everyday life are also possible.
Treatment for anxiety may involve talking therapy, medication, or a combination of the two. Barn Life Recovery also provides a variety of complementary and alternative therapies including acupressure for anxiety in clients.
Relieving Stress With Acupressure Therapy
As a type of Traditional Chinese Medicine, acupressure has the potential to offer brief relief from stress and anxiety symptoms. Stimulating certain pressure points on the body can have a wide range of health benefits and can be done by anybody, whether the user is a novice to a trained expert.
NOTE: There is not sufficient evidence to support the use of acupressure as a therapy for chronic anxiety, but it can be beneficial for treating anxiety symptoms in the short term.
If your mental health worsens or starts interfering with your daily life, it's important to contact your doctor or a trained therapist as soon as possible and continue with any additional therapies they prescribe.
Without further ado, let's dive into the nine pressure points for anxiety relief.
Yin Tang – Hall of Impression or Seal Hall

This point is located directly on the midline above the bridge of the nose, between the medial ends of the eyebrows. This is a very famous point on the body and is said to relieve headaches, insomnia and anxiety. For insomnia, this point is often combined with Heart 7 (Shen Men or Mind's Door) and Spleen 6 (San Yin Jiao or Three Yin Meeting Place).

Shen Men Ear Point – Heavenly Gate

The heavenly gate point is located in the upper shell of your ear, at the tip of the triangle-like hollow there. Stimulating this point is said to help relieve anxiety, stress, and insomnia.

Many painful and dysfunctional disorders have been shown to respond to stimulation of the Shen Men acupressure point. When dealing with painful problems, Shen Men is generally the starting point of treatment.

From a neuropsychological and emotional standpoint, it is believed to calm nerves and the overactive sympathetic nervous system. In many cases, Shen Men is used to help people overcome their addictions. It is also well-known for the relief it provides in inflammatory conditions.

Jian Jing – Shoulder Well – Gall Bladder 21

This is a great point located on the highest point of the trapezius muscle on either side of your body on your shoulders. This point on the Gallbladder Channel also intersects with another power channel called the Yang Linking (Yang Wei) Channel. This channel is said to help control extreme emotions and mood swings.

When nourished, we are calm and measured in our responses to the external world. Shoulder Well relaxes all the sinews and muscles in the body and is an excellent point to try on yourself or with a friend.

He Gu – Joining Valleys – Large Intestine 4

This is the point friends tell you to squeeze on your hand right between the thumb and first finger where the two bones meet where there is a depression. Usually, this point is recommended for headaches but it can help with much more.

Applying firm pressure to this point can relieve pain, reduce swelling (especially in the eyes), and increase Qi flow all over the body, invigorating the entire body. This point is sometimes translated as The Tiger's Mouth.

Tai Chong – Great Surge – Liver 3

This point is most frequently used to combat the ill effects anxiety has on the body. Oftentimes, this point is very tender. It is located between the big toe and the second toe where the two bones meet in a depression.

Massaging this point is said to calm the mind, treat headaches, and reduce stress, depression, and insomnia. This is a powerful point and easily practiced on one's self. This is a daily use point that has positive effects on our nervous systems.

Nei Guan – Inner Gate – Pericardium 6

Located about an inch and a half above the wrist crease lies this amazing point. Known for cardiac health promotion and treating heart palpitations, this point also calms the mind of restless thoughts and harmonizes the stomach.

Additionally, applying pressure to this classic point treats irritability, insomnia and nausea. This point's ability to calm a restless heart has ancient roots in Chinese medicine.

Feng Long – Abundant Bulge – Stomach 40

This point is on the pinkie toe side of the calf on your leg. Observe the lateral malleolus, that round bone on the outside of your foot, all the way to the center of your patella – that floaty bone on your knee. If you go half way between those points you will find the Abundant Bulge Point.

This point has a very strong action in calming the mind and treating anxiety. It is very sedating. It is especially good for tightness in the chest and feeling of oppression. Additionally, it treats headaches, dizziness, mania and muscular atrophy.

Shen Ting – Spirit Courtyard – Governing Vessel 24

This point is in the midline, a finger's width posterior of the anterior hairline. In other words, it's where your hairline starts on the front of your head in the dead center. Traditionally, indications for this point are manic depression, depression, poor memory and insomnia.

This point makes turbid mind thoughts descend and disperse. This has a clearing and calming effect upon the mind. Frequently combined with Gallbladder point 13 for severe anxiety, this point also treats epilepsy and vertigo.

Ben Shen – Mind Root – Root Spirit – GB 13

About an inch and a half on either side of Governing Vessel 24 lies GB 13. That is an inch and a half from the midline of the forehead at the hairline, right across from GV 24.

This point gathers essence and energy into the head and vanquishes manic behavior and fright. It is used clinically to treat schizophrenia and split personality disorder. It is also recommended for patients with persistent and unreasonable feelings of jealousy and suspicion. Additionally, it treats insomnia and epilepsy.
Acupressure Therapy in Orange County, CA
Barn Life Recovery is an intensive outpatient mental health facility in Orange County, California. Whether you're dealing with anxious thoughts, depression, OCD, bipolar disorder, or are just in a low point mentally, we can help you learn how to Love Life Again. Join us at one of our upcoming events free of charge to learn more about the Barn Life experience.