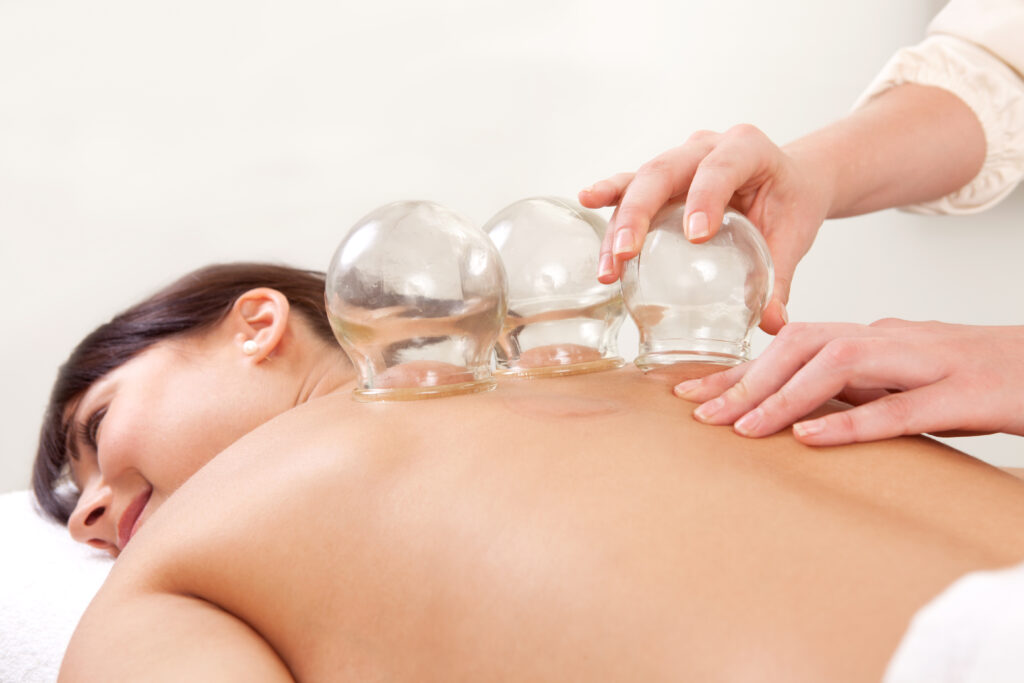 Cupping Therapy Benefits
When swimmer Michael Phelps appeared at the 2016 Summer Olympics with circular bruises covering his back, the topic of "cupping" was thrust into the public spotlight. 
Cupping, which has lately seen a surge in popularity, has been used for thousands of years in traditional Chinese and Egyptian medicine. The "Ebers Papyrus", a medical manual published about 1550 BC, has references to the benefits of cupping and cupping therapy.
How Do You Do Cupping?
To do cupping, a practitioner will place a series of spherical cups directly on the patient's skin. Suction is created by either preheating the cup with a match or by physically pumping air out of it. After a few minutes, you remove the cups from your skin. 
Anxiety and Depression Relief With Cupping 
Nearly half of all adults suffer from symptoms of depression and anxiety at some point in their life. However, patients may require further assistance when these emotions persist for extended periods of time and are accompanied by suicidal ideation and/or behavior. The calming effect of cupping treatment can provide much-needed comfort for sufferers. 
However, it's important to know what causes patients' depression before you can see how cupping might assist. This is why at Barn Life Recovery, our Clinical Team and Oriental Medicine Practitioners work side by side, sharing Eastern and Western perspectives and focusing on where they overlap and support each other. 
The Roots of Sadness 
Anxiety can be caused by both internal and external sources, but many causes of sadness are thought to be mental in nature. Brain injuries and low thyroid levels have both been linked to the onset of depression in certain persons. The emotional distress of anemia, chronic pain, cancer, and even some infectious conditions can be overwhelming at times and cause depressive states. Depression can manifest itself for a number of reasons, one of which is a disruption in the normal balance of chemicals in the brain. 
Mood Disorders and the Various Types of Cupping Techniques 
Most likely, a cupping practitioner will advise a treatment plan that incorporates all three methods of cupping. 
The first session will consist of wet cupping down the spine. Subsequent sessions may include massage and fixed, dry cupping to aid with detoxification, although this will depend on the patient's response. 
Treatment with cupping for depression typically entails six cupping sessions, during which the patient's back and legs are massaged and other pressure points are worked on for relaxation and healing. You'll also get a detox food plan to promote healing by removing toxins in your body. 
Why Cupping is Effective?
Cupping therapy has a number of positive side effects for your mental and physical well being. Some benefits of cupping include…
Flushes toxins, pollutants, dead cells, lymph, and other detritus out of the body. 

Kills off disease-causing microbes.

Increases the body's blood flow, which brings oxygen and nutrients to the body's cells.

Decreased feelings of depression and anxiety. This is achieved when the patient's injuries and muscle knots in the cells heal and the body's natural mechanisms eliminate the toxins and pollutants.
Cupping Benefits Physical Health Too
Reduced pain from injuries and infections can be achieved through cupping therapy because it reduces inflammation. 
A common source of inflammation is blood that has been stagnant in a certain place. Cupping can help move that blood and any accumulated toxins out of the area. It has the potential to calm the patient to the point where even people who often have trouble sleeping are able to drift off during treatment. 
Cupping in Orange County, CA
Barn Life Recovery is the first and only licensed community care center in the state of California. Learn more about cupping as an  approach to mental health treatment by giving us a call or by joining us at one of our upcoming free community events.