Borderline Personality Disorder Stories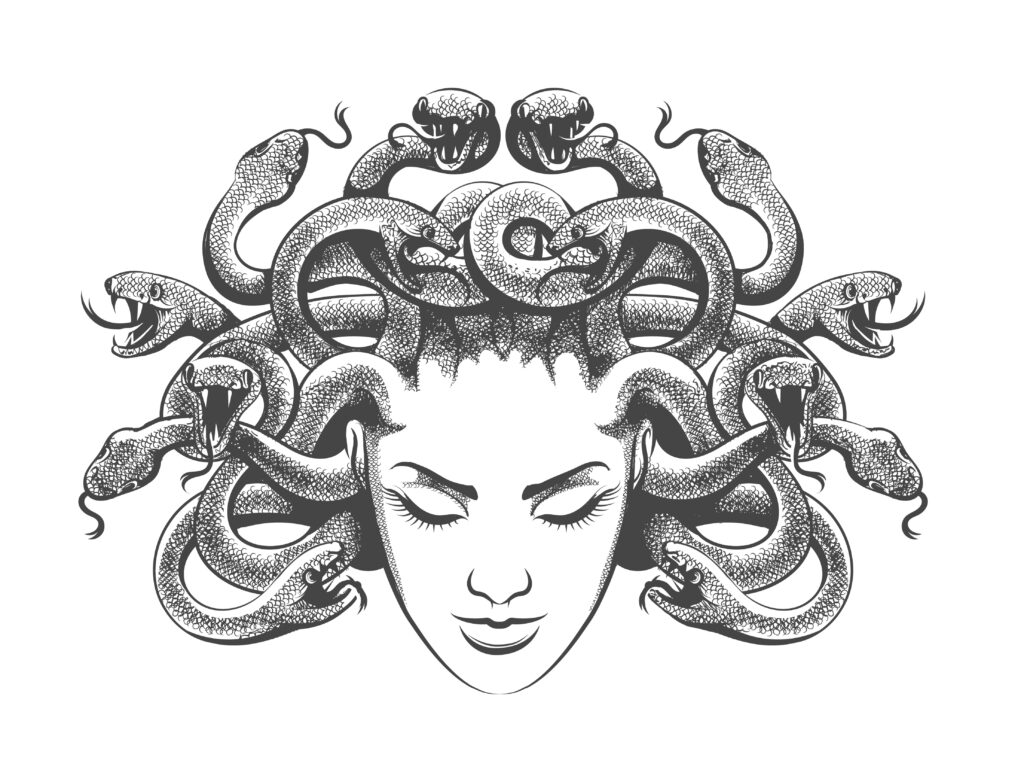 Borderline Personality Disorder and Mythology
You may never see it coming. The defenses can be aggressive, frigid, fiery, slithering, and destabilizing. Borderline personality disorder (BPD) is generally characterized by intense mood swings, unstable relationships or difficulty maintaining strong personal relationships, and a negative sense of self-worth. BPD risk factors include genetics and environmental factors such as a history of abuse.
Receiving mental health services from a trusted professional is a pretty typical treatment plan for people with BPD.
A Borderline Personality Disorder Story
Not too long ago I entered a women's mental health inpatient to run a weekly group. Client rotation is common so meeting new faces is part of the job. I wore a t-shirt under my blazer with the image of the Greek Medusa displayed on my chest and introduced myself. 
A new client asked what I meant to say by wearing the shirt. I said, "I guess it's a reminder that sometimes our defenses come from deeper wounding. Attacks like these can make us feel like stone and for any of us that have gone through traumatic mistreatment, we can benefit a great deal from getting to know the slithering serpents in our hair."
I did not expect the response I received. Her face was bright red. She accused me of being insensitive. I tried to listen, apologize and clarify but it was too late. There was no room for repair. I felt frozen. Turned to stone. My words fell on deaf ears. She rejected my strong care for her emotions and I met a twisting and passion-filled assault. 
How incredible that 10,000 years later and the mere image of Medusa invokes a psychoactive response! Her story is the story of the overactive defenses of the wounded. While a diagnosis from a mental health professional can offer us the nuts and bolts of a disorder, I want to focus instead on the idea of disorder itself.
Borderline Personality Disorder Symptoms
The National Education Alliance for Borderline Personality Disorder classifies nine criteria for borderline personality disorder diagnosis, of which five must be present in order to confidently diagnose a patient:
Fear of abandonment

Unstable or changing relationships

Unstable self-image; struggles with identity or sense of self

Impulsive or self-damaging behaviors (e.g., excessive spending, unsafe sex, substance abuse, reckless driving, binge eating).

Suicidal behavior or self-injury

Varied or random mood swings

Constant feelings of worthlessness or sadness

Problems with anger, including frequent loss of temper or physical fights

Stress-related paranoia or loss of contact with reality
The Personification of Borderline Personality Disorder
We might say that Medusa personifies a borderline personality disorder. Of the nine criteria for the diagnosis, she demonstrates in her story at least seven of them. Let us now examine the pathology of BPD. 
Pathology refers to the sequence, the phenomenon, or the experience rather than the behavioral criteria. A disorder is a more appropriate word in my view than diagnosis. Because to be "dis-ordered" is to have all the right pieces, only out of reasonable or functional order. 
Disorder implies not that someone is broken or missing pieces but instead has a tangling of parts. All the parts are there, and somewhere in-tact. What is lacking is the tact itself.
BPD: Our Mission
With personality disorders, our philosophy revolves around the recognition that the decision to overprotect oneself has turned pathological. That is, gone to such extremes that we are not experiencing relationships with self and others in healthy intimacy. Instead, defenses distort and prevent secure attachments. Stability comes in the form of defenses and prevents us from thriving in constructive relationships. 
Can we heal borderline traits? Studies on intensive DBT treatments tell us yes. With proper trust and safety, telling someone they meet the criteria for borderline personality disorder is ultimately constructive. To be clear: untangling the connection between empowerment and defensiveness is tricky work and belongs to the slow ego re-formation that comes through empathic understanding.
Medusa and Perseus
Let's look in brief at the arc of Medusa and Perseus. Perseus is charged with the heroic task of obtaining the head of Medusa. To put it another way, by mastering the monstrous defenses of emotional trauma the hero then has access to her power. We can see Perseus, too, as an inner figure. The one who confronts and strives to overcome our disorders must square off with Medusa. 
I think it is important to note that this is not about conquering her, though that is the popular seasoning. Instead, Perseus shows Medusa herself – offering no interpretation, no aggressive attack, no attempts to overpower. A silver mirror presents a simple, voiceless reflection of her own image.
The Skill of Medusa
Perseus gains the skill of Medusa and shows her face to the monster of Poseidon – the Kraken. The sea of our emotions has many monsters and to win the gift of Medusa's stare is to know when and how to freeze lethal enemies.  She is a gift. Our wounding and our defenses have worth and will support us in the right ways once dislodged from the body of terror. The trick is in knowing the difference between a lethal enemy and an imposing reality.  
In other words, when Medusa runs the show, all are threatening. When the inner ego (hero) gains her strengths and can be shielded from her wrath there is great power and healing that can take place.
The Silver Mirror of Perseus' Shield
Today, we know Perseus by many names. He goes by cognitive restructuring, emotional regulation, the spectral chart, emotional transference therapy, and many more.  Any practice in mindfulness is a look into the silver mirror of Perseus' shield. Learning to observe and self reflect is the skill. As staff, we aim to work with the emotional deregulation of clients with a softer eye. Rather than attempting to interpret, learning to be grounding and curious. 
To join with activated dysregulation may sometimes not be an option. In defensiveness, all we can offer is our own boundaries. 
Let us all make some extra room in our relationships with each other. The only way through disorder is untangling the story and the only way to untangle the story is to give it our undivided attention.  May we all find the solutions in our symptoms and the passions in our wounding.
Borderline Personality Treatment in Orange County, CA
Learn more about our mental health services and our mission at Barn Life Recovery. Our facility offers a space of healing for all of those with borderline personality disorder and other mental illnesses. Join us for our various events to get involved with the community.
A Poem Written By Coral More