Introduction to PTSD
Post-traumatic stress disorder (PTSD) is a psychiatric disorder that develops following a traumatic experience or series of events. Examples of such experiences include natural disasters, accidents, domestic violence, and war. What these all have in common is that they are experienced as a shocking, dangerous or life-threatening event, and often have a long-lasting impact on one's physical, mental or emotional health.
Each year, PTSD affects more than 3.5% of adults in the United States. It is estimated that 1 out of every 11 people will be diagnosed with PTSD at some point in their lifetime.
Types of PTSD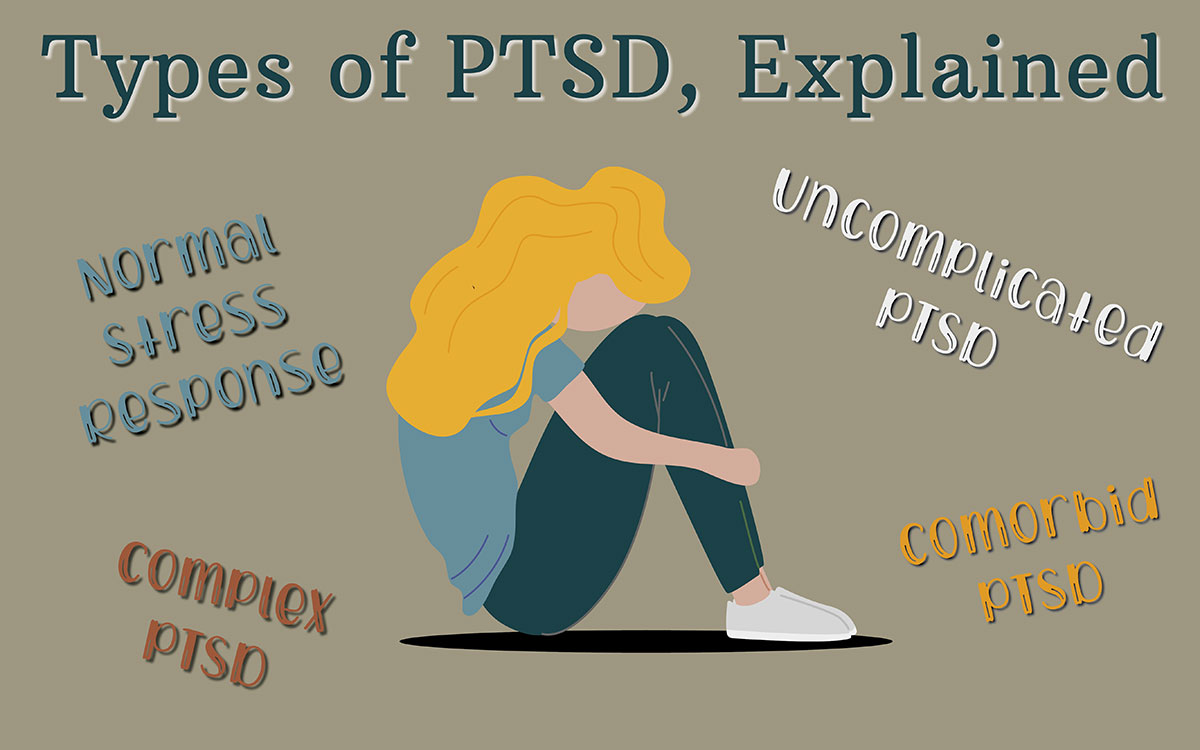 Normal Stress Response
Before diving into the signs and symptoms of PTSD, it's important to note what a "normal" stress response entails.
Most anyone will experience stress in their lifetime. Stress is our body's way of preparing us to "fight or flee," depending on the situation at hand.
Adrenaline and cortisol, our stress hormones, will kick into high gear in stressful situations, leading to a number of physical and psychological symptoms.
Physical symptoms of normal stress response include:
Accelerated heart rate
Quickened breathing
Goosebumps
Muscle tension
Headaches
Psychological symptoms of normal stress response include:
For someone dealing with normal stress, these symptoms typically dissipate once the stressor is removed, and will not continue to affect one's day-to-day routines. For someone suffering from PTSD, these stress responses are just the beginning.
Uncomplicated PTSD
Uncomplicated PTSD involves one singular traumatic event, rather than occurring events.
Symptoms of Uncomplicated PTSD include:
Avoidance of people or places related to the traumatic event
Disturbed sleeping patterns and nightmares
Mood swings
Unlike other forms of PTSD, uncomplicated PTSD will not often accompany other mental health disorders such as depression.
Complex PTSD
Complex PTSD can develop following multiple traumatic events. Examples include recurring events such as domestic violence and childhood abuse. Ongoing exposure to traumatic situations such as war or violence can also trigger Complex PTSD.
Complex PTSD often coincides with other mental health disorders, including borderline personality disorder and antisocial personality disorder.
Symptoms of Complex PTSD include:
Suicidal thoughts
Loneliness
Low self-esteem
Difficulty controlling emotions
Disassociating with other people
While the symptoms of Complex PTSD are similar to those of Uncomplicated PTSD, treatment often takes much longer.
Comorbid PTSD
C-morbid PTSD is a condition where one's PTSD is accompanied by additional mental health disorders, including panic disorder, anxiety disorder, or major depressive disorder. Substance abuse issues are common among sufferers of Comorbid PTSD.
Approximately 80% of people suffering from PTSD have at least one comorbid psychiatric disorder.
Acute Stress Disorder
While not technically a form of PTSD, Acute Stress Disorder can develop into PTSD if left untreated. This condition can occur for people exposed to a life-threatening event – or an event that feels life threatening. Examples include natural disasters or the loss of a loved one. Symptoms typically occur only during the first month following the event, and will lessen over time. This is what differentiates Acute Stress Disorder from PTSD.
Types of PTSD Symptoms
There are four primary categories of PTSD symptoms: memories and flashbacks, changes in behavior, avoidance, and negative changes in thoughts or mood.
Memories & Flashbacks
Intrusive memories and flashbacks can take several forms:
Recurring memories of the traumatic event
Disturbing dreams or nightmares about the traumatic event
Reliving the event (flashbacks)
Severe emotional or physical reactions to something that reminds one of the event
Changes in Behavior
Many sufferers of PTSD experience arousal symptoms, which can make emotions – and their subsequent behaviors – more intense. Examples include:
Being easily startled
Overwhelming guilt or shame
Always being on guard, anticipating a dangerous experience
Displaying aggressive behavior
Getting easily upset
Avoidance
There are two types of avoidance someone suffering from PTSD might experience: emotional and behavioral.
Emotional avoidance occurs when we avoid thinking about something. We might shut down feelings that remind us of the traumatic event or abuse substances to prevent us from thinking about it.
Behavioral avoidance occurs when we specifically avoid people, places, or activities that remind us of the traumatic event. Examples include avoiding the news or no longer driving a vehicle.
Negative Changes in Thoughts or Mood
Mood swings are an especially common symptom of PTSD. Symptoms of changes in thoughts and mood as a result of PTSD include:
Feeling hopeless about the future
Difficulty maintaining relationships with family and friends
Overly negative thoughts or assumptions
Feeling emotionally numb
PTSD Treatment in Orange County, CA
Barn Life Recovery is the first holistic mental health treatment center in the state of California licensed to treat mental illness on an outpatient community based level. We specialize in non-pharmacological treatment with the goal to help you Love Life Again. Learn more about our intensive outpatient (IOP) and partial hospitalization (PHP) programs to see if we're a good fit for you.