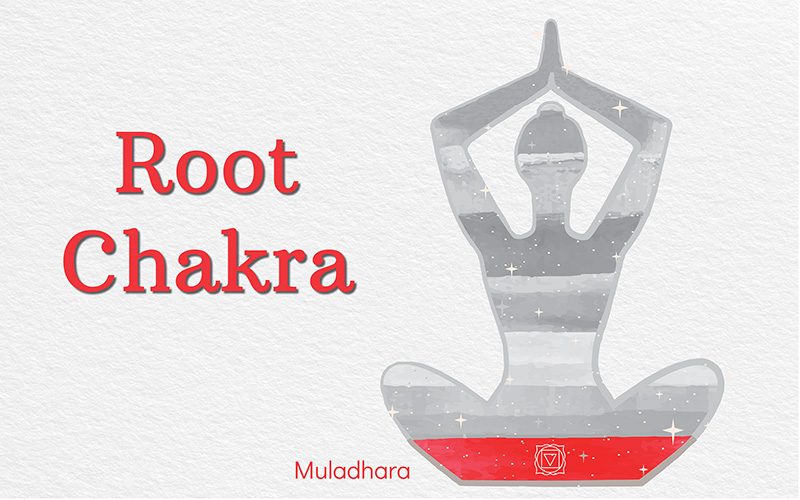 The Root Chakra – How to Heal & Align The Muladhara
The root chakra – also known as the Muladhara – is one of seven chakras in our chakra series – Root, Sacral, Solar Plexus, Heart, Throat, Third Eye and, finally, the Crown. Chakras control the energy flow in your body. If one of them is blocked, you may experience an increase in anxiety, depression, or other negative thoughts and feelings. In this article, we'll explore the root chakra, how it relates to mental health and uncover some methods for how to heal yours.
Where Is The Root Chakra Located?
You can find the root chakra at the base of the spine. The root chakra is responsible for one's sense of security and stability. This is the foundation of self improvement and the true self.
Root Chakra Affirmations
Each of the seven chakras has a mantra. The mantra for root chakra is "I AM." Here are some examples of this:
I AM safe

I AM centered

I AM grounded
At my root, at my base, I know who I am and stand firmly in my beliefs and morals. Each chakra is a "level up" to coming into your highest self. Your true self.
How to Open the Root Chakra
We can open the root chakra through conscious breathing deep into the energy center, reiki, or yoga postures. Even the turning of awareness to the lower body can help. Start by simply trying to unclench the lower body. Simply notice the sensation in your feet. For those of you who are overachievers, try this root chakra meditation:
The bones are the nearest and most dense part of our existence. This is earth. This is underneath all else. If our nervous system and our musculature store the stuff we, well, stuff, then starting with the bones, feeling the present moment as it is in the physical and concrete, or in our case, calcium, we may begin to move upward through the spine bridging the divide between physical body and mind.
The root chakra is just that, the root. It's the foundation. When the root chakra is open, we feel confident in our ability to withstand challenges and we're able to stand on our own two feet. When our base chakra is aligned, we know who we are and we stand firmly in our beliefs and morals. While our other chakras open us up to creativity, confidence, love, communication, intuition, and spirituality. If we want them to stay open and balanced, our root chakra energy must be grounded.
The Root Chakra's Element & Life Force Energy
The root chakra's element is the earth element which encourages us to dig in and feel firmly rooted in our life. Consider now your relationship with the world and with yourself. Where do you feel grounded? When do you feel calm and stable?
If we are feeling distracted, anxious, lost or unsafe, tap into those desires. If you don't feel grounded now, how can you change your present environment to make you feel more grounded? Perhaps you could try walking around barefoot or lying down in the grass outside. These are ways in which you can connect with the earth and thus with the root chakra's characteristics.
How to Balance The Root Chakra
Breathe into the root, imagining the red glow around the chakra get brighter and brighter. This helps to center oneself. When our root chakra is opened, a calm and steady energy will run throughout our body. We will feel confident and grounded within ourselves and with the world as a whole. How peaceful does that sound?
Spend some time opening your root chakra. Reconnect with the earth. Speak positive affirmations such as:
"I am safe." 

"I am at home in my body." 

"I am at peace with the here and now." 
And ask yourself:
What are my basic needs to survive? 

Do I currently have access to these needs? 

Do I presently lack the means to satisfy any of these needs?
To better focus inward on your chakras' balance and your feeling of safety and security, try some of these excellent root chakra journal prompts.
Balancing the Root Chakra in Costa Mesa, CA
If you want to become part of our free community support groups or learn more about the mental health services at Barn Life Recovery, never hesitate to reach out. We're here to help you love life again.