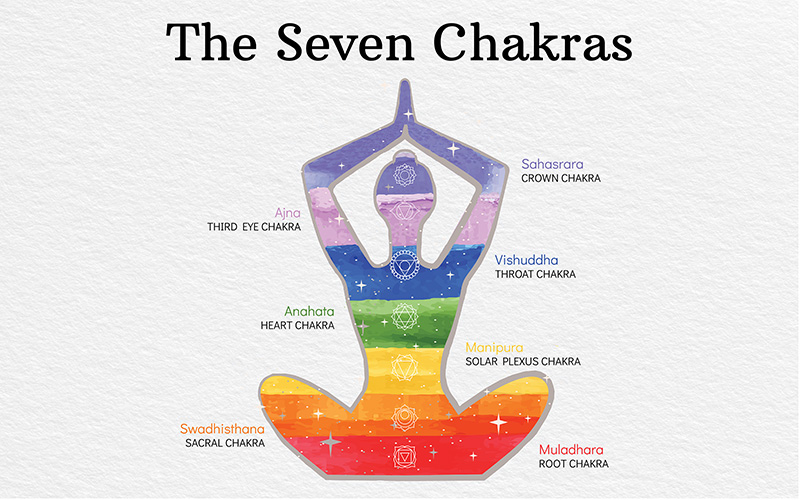 An Introduction to the Seven Chakras
We are not just physical bodies, nor are we the untouchable substance of our thoughts and feelings. Somewhere between our physical bodies (soma) and our psychological landscapes (psyche), we confront the spectrum that is the human experience. These systems are interconnected, with our chakras being the key to aligning our physical, emotional, spiritual, and mental health.
Chakras represent the energy centers in our body, each connected to specific organs and glands. While there are actually hundreds of chakras in our energy anatomy – 114 chakras to be exact – most people focus on seven primary chakras: root, sacral, solar plexus, heart, throat, third eye, and crown.
Tending to the health of our chakras can help us identify which networks in our body are thriving and which may be split off or disconnected.
A History of Chakras
Chakras are believed to have their origins in early Hinduism in 1500 BC, and later adopted by Buddhist and Tibetan traditions as well.
The word "chakra" comes from the Sanskrit term meaning "wheel." Chakras represent spinning wheels of energy that run along the spine, each associated with their own set of emotions and elements.
Modern western chakra references began in the late 1880s, introducing the concept of the seven colors of the rainbow representing our primary chakras. Over time, practitioners began to incorporate other systems into the chakra spectrum, including gemstones, astrology, homeopathy, and Tarot.
What Are the Chakras?
Chakras control the energy flow in your body, operating as clusters of connectivity between our physical, spiritual, emotional and psychological states. The chakra system runs from the base of our spine (the root chakra) to the top of our head (crown chakra).
Root Chakra
The root chakra, or muladhara, sits at the base of the spine. The root chakra is responsible for one's sense of security and stability. This is the foundation of self improvement and the true self.
The root chakra is represented by the color red. Associated with the earth element, it encourages us to dig in and feel firmly rooted in our life. Consider your relationship with the world and with yourself. Where do you feel grounded? When do you feel calm and stable?
When the root chakra is open, we feel confident in our ability to withstand challenges. A closed root chakra could leave us feeling distracted, anxious, lost, or unsafe.
Sacral Chakra
The sacral chakra, or svadhisthana, is the energy center of all creativity, relationships, sexual energy, and feeling. Seated above the root chakra between the frenum and the navel, the sacral chakra is represented by the color orange and associated with the water element.
The sacral chakra is the seat of our addictions and ultimately gluttonous behaviors. If we work to balance this energy center, we discover a world of joy rather than sensory overload. When out of balance, we may find ourselves deprived of vital enjoyment and personal power. An extreme imbalance could bring about codependencies, cravings, and compulsions.
Solar Plexus Chakra
The solar plexus chakra, or manipura, sits above the navel and just below the rib cage. It shines with the color yellow and is associated with the element of fire. It is the seat of our personal power, responsible for our feelings of confidence and self-esteem.
When our solar plexus chakra is open, we experience a heightened sense of self-expression and confidence. When this chakra is blocked, we may experience feelings of aggression, insecurity, low self-esteem, and fear of rejection. Physical symptoms of a blocked solar plexus include blood pressure issues, diabetes, and eating disorders.
Heart Chakra
The heart chakra, or anahata, resides in the center of the breastbone. It is represented by the color green, and associated with the element of air. It holds the energy of circulation, love, and compassion.
An open heart chakra allows for the flow of abundant love – both love of oneself as well as love of the universe.
A blocked heart chakra may result in feelings of distrust towards others, lack of forgiveness, or loneliness. A heart chakra that is overactive may lead to overdependence on others or a need to receive love or acceptance from others as well as feelings of jealousy.
Throat Chakra
The throat chakra, or vishuddha, is the source of our deepest truths. Represented by the color deep blue and the element of sound, the fifth chakra governs communication and self-expression.
An open and balanced throat chakra frees up our channels of communication. When the throat is released of tension and energy flows freely, we are able to more effectively communicate between our own mind and body, as well as with others.
A blocked throat chakra can lead to fears about speaking our truth, social anxiety, and difficulty expressing our thoughts.
Third Eye Chakra
The third eye chakra, or ajna, is considered the center of consciousness. Represented by the color violet and the element of light, it rules awareness and our insight into the spiritual realm.
A balanced third eye chakra creates a strong "sixth sense" or intuition, allowing us to trust our instincts and hear our inner voice.
When our sixth chakra is unbalanced, we may experience growing feelings of disconnection from loved ones, blocks in creativity, tunnel vision, and an overall inability to see the bigger picture.
Crown Chakra
The crown chakra, or sahasrara, sits at the top of our head – the "crown" of the head – exposing our capacity for a pure conscious relationship with a universal whole. Represented by the color violet and the element of thought, the seventh chakra serves as our connection to enlightenment and universal consciousness.
A balanced crown chakra produces an ever-present awareness and deeper understanding of the physical world around us. It helps us to see the bigger picture, and more effectively navigate between the earthly and spiritual realms.
An unbalanced crown chakra can lead to general confusion and lack of focus.
How to Open Your Chakras
Balanced, open chakras are the key to living our most joyful, peaceful, and authentic life. Beginning a chakra healing practice can help us come out of old patterns, habits, trauma, and compulsions without having to speak directly to them. This is why we include this healing approach to our work at Barn Life.
While therapy is an important part of our work, in the end, the honest experience of our sensory-selves is where the ultimate changes take place.
Chakra balancing can be achieved by a number of practices, including yoga postures, breathwork to increase energy flow, and meditation.
For a meditation to unblock all 7 chakras, check out this YouTube video from the My Peace of Mindfulness Channel:
We should spend some time with our 7 chakras when we're working to befriend and love ourselves. In order to feel inner peace, we must allow each chakra to give us insight into our true desires for ourselves. Frankly, finding inner peace is what life is all about, right? When we find love within ourselves no matter what, we are always at peace and filled with love despite the who, where, or why surrounding us.
If you want to become part of our community events or learn more about the mental health services program at Barn Life Recovery, never hesitate to reach out. We're here to help you love your life again.