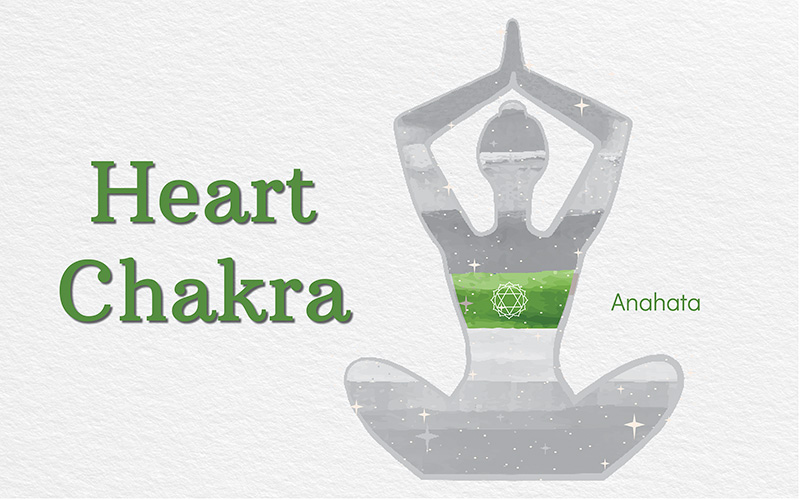 The Heart Chakra: The Center of the Psyche-Soma Connection
The heart chakra, or anahata in Sanskrit, is the fourth chakra, located in the center of the chest near the heart region. 
The heart chakra reflects our sense of love, compassion and empathy. When our heart chakra is healthy and balanced, we become more open to unconditional love, forgiveness, and acceptance, of both ourselves and others.
This chakra is also regarded as the great center of the psyche-soma connection, which balances our mind (psyche) with our body (soma). It acknowledges the influence that our mental and emotional states have on our physical well-being, and vice versa.
What is the Heart Chakra?
The heart chakra is represented by the color green, and associated with the element of air. It holds the energy of circulation, love, and compassion.
An open heart chakra allows for the flow of abundant love – both love of oneself as well as love of the universe. 
A blocked heart chakra may result in feelings of distrust towards others, lack of forgiveness, or loneliness. A heart chakra that is overactive may lead to overdependence on others or a need to receive love or acceptance from others as well as feelings of jealousy.
A Balanced Heart Chakra
When our heart chakra is balanced and open, we allow for healthy relationships with others and a sense of harmony within ourselves.
Physical Signs

Physical signs of a healthy, balanced heart chakra include: 
Strong immune system

A feeling of lightness in the chest

A strong and steady heartbeat

Improved circulation

An inclination towards easy, deep breathing

Radiant complexion
Mental Signs
Mental and emotional signs of a healthy, balanced heart chakra include: 
Compassion for others and ourselves

Empathy for others

Deep feelings of self love

Inner peace

Joyfulness in even the littlest of things

Gratitude

Healthy relationships

A feeling of connectedness to the world around us
An Unbalanced Heart Chakra
Because the heart chakra is at the center of our energetic prana system, a heart chakra blockage or imbalance has a profound impact on everything in our being, and can lead to a number of physical, mental and emotional concerns. 
Physical Signs
Physical symptoms of a blocked or unbalanced heart chakra include:
Heart issues

A weakened immune system

Lung issues

Low or high blood pressure 

Poor circulation
Mental Signs
Mental and emotional symptoms of a blocked or unbalanced heart chakra include:
Distrust of others

Difficulty

forgiving

others

Loneliness or isolation

Fear of intimacy 

Inability to form deep connections

Feelings of jealousy

Over-dependence on others

A heightened need for love or acceptance from others 
How to Unblock the Heart Chakra
Balanced, open chakras are the key to living our most joyful, peaceful, and authentic life. A heart chakra healing practice can help us feel more connected to unconditional love, compassion, joy, and forgiveness.  
There are a number of practices that can help balance the heart chakra, including: 
Meditation

Breathwork

Yoga

Engaging in acts of kindness

Practicing acts of self love

Engaging in meaningful connections with friends and family

Spending time in nature 
Heart Chakra Affirmations
Affirmations are a wonderful way to shift our energy into a more positive, open state. They serve as suggestions for our subconscious, which over time, will also become ingrained in our conscious mind. 
To increase love for yourself and others, try repeating one or more of the following heart chakra affirmations daily:  
I find love everywhere I go.

I deserve love and being loved.

I love myself to the fullest.

Love is all around me, it's everywhere I go.

I am surrounded by love.

I attract good, loving, kind people into my life.

The power of love is inside me.

I am welcoming love with open arms.

I'm happy and grateful for having loving people in my life.

I give my relationships the attention they deserve.
Heart Chakra Meditations
Meditation is a powerful tool for opening and balancing the heart chakra. 
How to begin your heart chakra meditation practice: 
Sit in a relaxed position with your back straight and feet on the floor. 

Place your hands on your heart center, in the middle of your chest. 

Close your eyes, slowly inhaling through your nose and exhaling through your mouth.

Envision an energy of white light circling your heart, and slowly making its way through your body.  

As you breathe deeply in and out, ask your heart what it needs to say. 

With each breath, your heart will likely begin to release emotions, wishes or fears that have been building up inside of you. Allow them all to flow through you.

Continue in this meditation practice until you feel you have heard all that your heart needs to express.  

Try to hold this intention for 5-10 minutes to start, or simply end the practice when you feel complete.
Need a little more help in your meditation practice? Try this guided heart chakra meditation to open yourself up to the love energy of the anahata.
Balancing the Heart Chakra in Costa Mesa, CA
If you want to become part of our free community support groups or learn more about the mental health services at Barn Life Recovery, never hesitate to reach out. We're here to help you love life again!
Never hesitate to reach out to Barn Life Recovery for holistic mental health services and free community support groups and events. We're here to help you love life again.