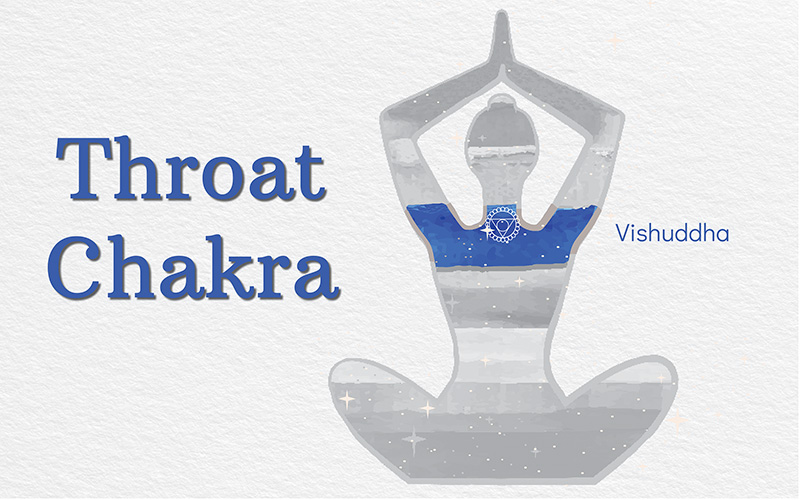 Throat Chakra: The Bridge to Communication
The throat chakra, also known as the vishuddha, is the fifth chakra, responsible for our communication, self-expression, and the ability to share our truth. Many consider it to be the pathway between our individual selves and the higher realms, connecting our basic human needs to higher, universal wisdom.
What is the Throat Chakra?
The throat chakra is fittingly associated with the color deep blue, as it is the source of our deep truths. It serves as the gateway to external communication, both speaking up and being heard.
Located at the throat, it's also associated with the tongue, lips, jaw, cheek, ears, upper back, and shoulders. 
This chakra is symbolized by a lotus flower with sixteen petals. The lotus itself represents spiritual awakening, and the sixteen petals are symbolic of the sixteen vowel sounds of the Sanskrit language, which are produced when the throat chakra is activated.
A Balanced Throat Chakra
An open and balanced throat chakra frees up our channels of communication. When the throat is released of tension and energy flows freely, not only are we able to communicate between mind and body in the inner world but also in the outer world with relationships and vital self-expression. 
An open, balanced throat chakra supports the communication of truths in ways that find harmony and understanding with others. In addition to being able to speak openly and with compassion, we are also able to truly listen to others. 
Physical Signs
Common physical signs of a balanced, open throat include: 
Willingness to speak up

An air of self-confidence (and great posture!) 

Excellent listening skills

Balanced hormones (your energy level will clue you in on whether your hormones are in balance!)

Enjoyment in communicating with others
Mental and Emotional Signs
Common mental and emotional signs of a balanced, open throat include: 
Willingness to speak up

Feelings of creativity and expansion 

An overall sense of feeling seen and heard 

Comfortability in expressing our truth
An Unbalanced Throat Chakra
When the throat chakra is blocked, communication between what is truly taking place in our mind and body is repressed. This may lead to eruptions of mood, loss of identity, the need for mental health services and a poor spiritual, emotional, and psychological disposition. 
A completely blocked throat chakra can make us unwilling to speak up about our opinions, or unable to defend ourselves in times of conflict. Many will completely shut down during difficult conversations. 
By contrast, in the case of an overactive throat chakra, communication certainly flows – but seldom in a positive way.  One may hurl information, causing them to overcome themself and others with a maniacal intensity. 
Physical Signs
Physical signs of an unbalanced or blocked throat chakra include: 
Thyroid issues

Sore throat

Mouth or tongue sores

Gum disease or other dental concerns

Temporomandibular joint (TMJ) issues

Ear infections

Tight shoulders
Mental Signs
A blocked throat chakra can lead to feelings of:
Depression

Anxiety

Low self-esteem
When combined with the inability to speak up, these feelings may worsen over time. 
How to Unblock the Throat Chakra
For many people, a blocked throat chakra is caused by trauma, including being surrounded by gossip, arguments with loved ones, or childhood experiences that resulted in closing off communication. Examples of such childhood experiences could include being yelled at by a parent, or physical or emotional abuse. 
For trauma-based throat chakra blockages, the best remedy is to get to the root cause of the issue. Once we have an understanding of why the blockage came to be, we are empowered to do the energetic healing work. 
There are a number of additional practices that can help open up the throat chakra, allowing us to have healthy communication with ourselves and others. 
Show your throat some love with soothing warm tea and honey.  

Incorporate herbs such as ginger, peppermint, and slippery elm to clear blockages.

Sing or chant aloud. Bonus points for singing in front of others! (Karaoke anyone?)
Practice yoga poses that bend and stretch the neck.

Throat Chakra Affirmations
Our words hold powerful energy. As such, spoken affirmations are a great way to encourage clear and truthful communication. Affirmations bring awareness to our communication, and empower us to speak more clearly and directly.
Try repeating one or more of the following affirmations to help unblock and balance your throat chakra: 
My words attract what I desire.

My words are accepted with open arms by those who love me. 

The truth will free me from my current situation.

I am an excellent communicator.

It is safe for me to share my truth.

I express myself with ease and grace.

I am connected to my innermost trust.

My words are powerful, and need to be heard.

My voice matters. 
Throat Chakra Meditations
Meditation is a great way to connect our headspace and heartspace, helping us align with our inner truth. 
Try this guided meditation practice for opening the throat chakra:
Spending time with our 7 chakras is the key to fully accepting and loving ourselves and others. Each chakra gives us insight into our true desires. And with that knowledge, we can work towards inner peace and living our true path. 
Balancing the Throat Chakra in Costa Mesa, CA

Want to love life again? Barn Life Recovery provides holistic, community-based treatment for chronic stress and other mental health conditions. Our facility is a haven for people from all walks of life. Learn more about what we do or attend one of our free community events to see if we're a good fit for you.
To learn more about our philosophy or to join a free community support group at Barn Life Recovery, never hesitate to reach out. We're here to help you love life again.